General Information
We announce the term of delivery via e-mail after the Buyer has paid the advance payment in full. The final delivery term may differ from the delivery term indicated in the order confirmation. In case we do not have goods ready in stock, the maximum term of delivery will not exceed 6 weeks.
We are only obligated to deliver the Goods on the condition that the Buyer has paid the price in full.
Delivery Location and Other Specifications
Unless otherwise agreed, we deliver the Goods to the location indicated in the order confirmation. All deliveries must be received in person at the delivery address or by an appointed person, and a signature to transport service providers must be given.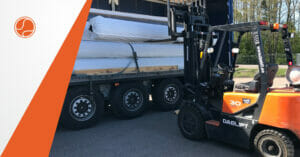 As a rule, we deliver the goods with a semi-trailer truck, and therefore, the delivery location must be chosen accordingly. The Buyer must provide a forklift to unload the goods from the truck and pay all costs of unloading. In case the semi-trailer truck cannot access the indicated delivery location due to insufficient space or insufficient hard standing and goods need to be reloaded in a terminal or somewhere else, all additional costs must be paid by the Buyer.
The Buyer is fully responsible for informing us before the delivery about the adequacy and conditions of the delivery location. In case of questions, we recommend to contact us immediately. As a rule, the delivery service does not include the removal of any packaging materials nor pallets.
Upon the request, we deliver the Goods to the transport operator designated by the Buyer. In this case, the obligation of delivery is completed by delivering the Goods to the transport operator.
Delivery Acceptance Form
Along with the delivery of the Goods, we send electronically all documents belonging to the Goods, including the installation instructions, maintenance instructions, and Delivery Acceptance form.
Upon the delivery, the Buyer or his indicated representative is obligated to fill a Delivery Acceptance form. The signed form must be sent back to us via e-mail within three working days; otherwise, TennisKit24 warranty is not applicable.
Delivery Failure
If your products remain undelivered despite our transport service provider making at least 1 attempt to deliver, we will send you a note with instructions on how and where you may collect your products, including a time limit for collection. We may agree to arrange for re-delivery of the products; however, we reserve the right to charge you for the actual costs of re-delivery even when the initial delivery was free of charge.
An indicative list of the situations where a failure to deliver will be your fault:
a) you provided the wrong address for delivery
b) the address for delivery is not reasonably accessible
c) the address for delivery cannot safely be accessed
d) there is no person available at the address to accept delivery and provide a signature.
We recommend reviewing the full version of our Terms & Conditons here.