TIME TO ENJOY
In this busy world, time is the most valuable asset. Time for family, time for friends, time for yourself, time to enjoy. Tennis helps you to take time to be with your family and friends. Playing that fun and spirited game improves every aspect of your life and has something to offer for everyone. Tennis is a lifestyle, and it certainly makes life worth living. Time spent on the artificial grass tennis court is well spent.
HOW TO MAKE A TENNIS COURT?
INNOVATIVE COURT SURFACE
Advantage Red Court
ALL-WEATHER COURT, THE BEST ALTERNATIVE TO CLAY
TennisKit Advantage Red Court (ARC) is a top-quality, player-friendly, and all-weather tennis court artificial grass surface. This new artificial grass product contains high-quality fibrillated yarn infilled with industrial ceramic sand that gives a superb clay court experience. Naturally controlled sliding experience and visible ball prints make this surface the best alternative to a traditional clay court. In addition, there is no need for extra watering. Compared to traditional clay court, the maintenance effort and cost is minimal.
Clay court playing characteristics
No watering needed
Visible ball prints
Natural-looking court
READ MORE
HOW TO MAKE A PADEL COURT?
RECENT BLOG POSTS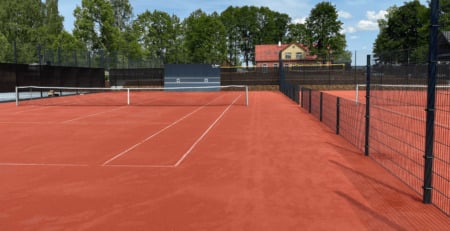 The tennis court fence, often overlooked, plays a vital role in the game. It defines boundaries, ensures safety, and contributes… read more
PROCESS OF BUYING
Choose the best suitable product for you and ask for a price quotation
Send us the information for invoicing, check proforma, and arrange payment
We will send you an order confirmation and estimated delivery time
If your product is produced and ready for delivery, we will confirm the delivery time and delivery details
When all details are confirmed, the product will be shipped
You Are Very Welcome to Visit Our Shop
Wide Range of Artificial Grass Surfaces and Accessories
Shop Now
Need Help with Installation?
Please contact us if you need any help with the artificial grass installation. Our experienced team will be happy to assist you!
Contact Us