How to Install Tennis Net Posts
Tennis nets and posts used today generally include a net tightening mechanism and post sleeves. As tennis nets have standard measurements, therefore it is essential to install the posts and post sleeves so that the net can later be tightened at the required height. The height of the net is specified in tennis rules – 91,5cm in the center.
Installation of the Net Post Sleeves
The best way for installing tennis net post sleeves is after the construction of the sub-base is complete. Then you have the "ground zero" at the height of the court level.
The net post sleeve must be installed so that the upper edge of the sleeve remains level with the top edge of the piles of artificial grass. That ensures that the net post height complies with the rules. Also the infill sand of artificial grass doesn't get between the net post and the sleeve. For artificial grass with a pile height of 10 mm, the upper edge of the sleeve must be 10 mm above the top surface of the sub-base ("zero"). In case of artificial grass with a pile height of 12 mm, the upper edge is 12 mm above the top surface of sub-base.
Tennis net post sleeves are installed with concrete. The recommended depth is at least 70 cm, with a diameter of approx. 30 cm. Since the tightening of the net involves considerable force, then the tensile strength of the net can pull posts off-kilter at a lesser depth. The depth of 70 cm can be extended with reinforcements.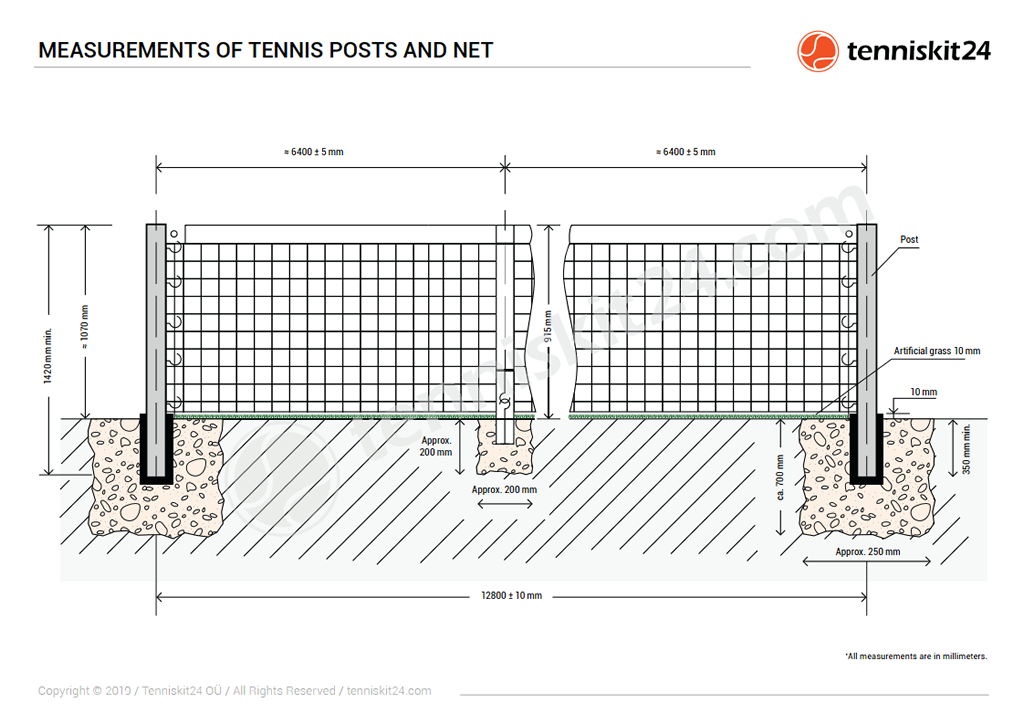 Check the Correct Distance Between the Posts
The distance between the centers of the net posts is also essential. Tennis nets have a standard length, and the distance between posts must be of the right length so that the net could be tightened. So, the correct distance between the net posts is 12800 mm, give or take 10 mm. With a larger gap between posts, the net won't reach the posts. With a smaller gap, the net cannot be sufficiently tightened.
Fix the Central Band of the Tennis Net
A central band must be in the middle of the net for it to be tightened. The correct height of the center of the net is 91,5 centimeters.
Three important steps for fixing the central band of the tennis net:
install a small concrete foundation sized approx. 20x20x10(h)cm at the center of the net and level with the surface of the sub-base at the top

after the artificial grass, posts and net are installed, drill a hole through the artificial grass into the concrete foundation for an M10 wedge anchor and install a wedge anchor

attach the central band to that anchor, so the height of the net is established. Central bands generally have adjustable lengths, making it easy to adjust the height precisely.