How to Make an Artificial Grass Tennis Court
Today, there is a wide choice between various surfaces and solutions for tennis court construction. One of the most popular options is artificial grass produced specifically for tennis courts. It's gaining more and more fame among recreational players all over the world. For historical reasons, artificial grass courts are not included in the pro tournaments circuit so far. However, as a warm-up court, an artificial grass surface is entirely acceptable.
Tennis court construction with artificial grass is one of the easiest and low-cost ways to establish your tennis court.
Pros of the Artificial Grass Surface for Tennis Court
low maintenance costs
hard-wearing surface
high weather-resistance
player-friendliness
relatively low construction cost compared to other surfaces
What is an Artificial Grass TennisKit?
Artificial grass for tennis courts is produced as an individual kit (TennisKit) with standard tennis court dimension of 18.27×36.57 meters.
Sometimes the court is smaller than standard. In that case, cut the grass surface to size along the edges during the installation of the artificial grass. However, if your court is exceeding standard measures of 18.27×36.57m, then please mention this during ordering process. You need an extra roll or rolls of artificial grass to cover the whole surface.
Specialized factories produce all artificial grass kits for tennis court construction. Five types of artificial grass TennisKits are currently available in TennisKit24 selection. All five types are suitable for tennis clubs, communities and private homes. The main differences come from the height and consistency of the grass pile.
Artificial Grass is Very Suitable for Tennis Court Reconstruction
Artificial grass is very suitable for reconstruction of the old asphalt tennis courts, clay courts, and hard courts. However, the old reconstructable surfaces have to be in a satisfactory condition. Observe carefully the evenness and slopes of the old court when planning the tennis court construction works.
Artificial Grass TennisKit Needs a Good-Quality Sub-Base
Installation of the artificial grass surface for a tennis court requires a specific and good-quality sub-base. Sub-base renovation needs to be done in case of reconstruction of the old court, too. Please read the instructions about tennis court sub-base here: "How to make a tennis court sub-base".
You are very welcome to consult with the TennisKit24 Team about all technical questions.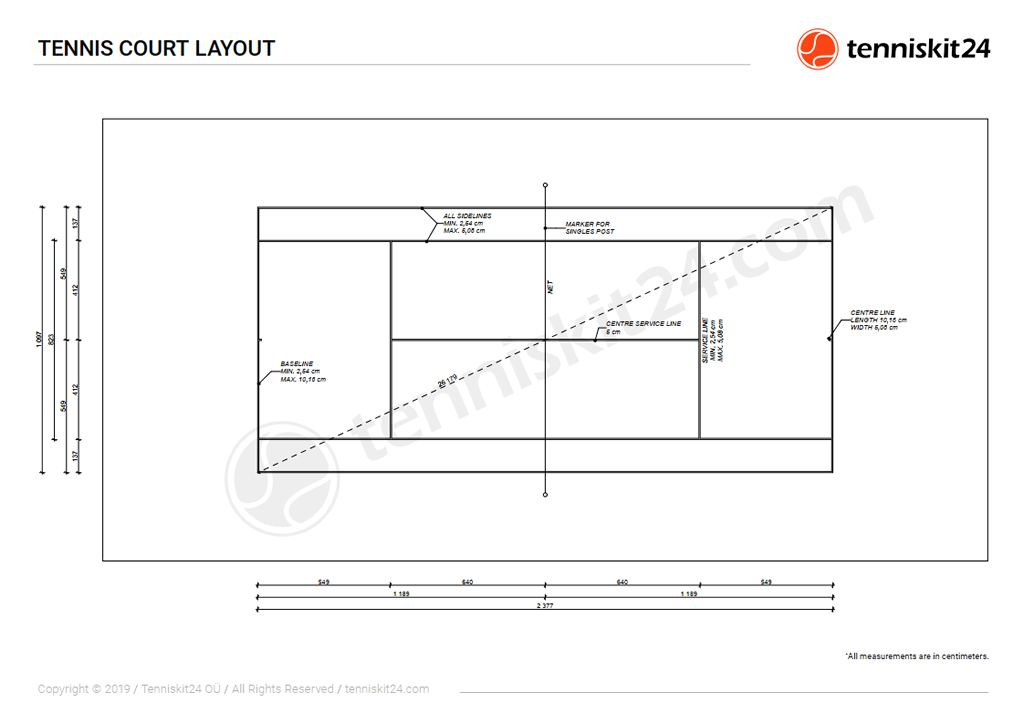 Artificial Grass Tennis Court Color Options
TennisKit24 selection contains six best and most popular artificial grass tennis court color options in the world:
Red / Summer-Green
Red / Green
Green / Summer-Green
Green / Green
Summer-Green / Summer-Green
Blue / Green
It is essential to know before starting a tennis court construction process that there are no differences in playing conditions between different colors. They all are equal, foot-friendly, and comfortable. The decision is entirely up to you and your preferences. However, there are certainly some things you should consider beforehand. Read more from TennisKit24 blog: How to Choose the Color of Your Tennis Court.