Tips for Choosing a Tennis Court Surface
Nell Kivi
Today, there is a wide range of modern tennis court surfaces available. When choosing the surface for your future tennis court, you must certainly take climate, geographical location, personal preferences, and other decisive factors into account. Hence, TennisKit24 compiled an overview of the characteristics of different tennis court surfaces to help you find the most suitable surface.
The Best Surface for a Private Tennis Court is…
Artificial grass, of course!
Artificial grass as a tennis court surface is an increasingly popular choice. It is ideally suited for a tennis court in a home garden and a court that is intended for the whole community to share.
What are the main advantages of artificial turf?
Advantages of Artificial Grass Surface for a Private Tennis Court
The construction of artificial grass tennis courts is significantly simpler and cheaper compared to other surfaces.The construction process essentially consists of only two stages: constructing a high-quality base and installing artificial grass.
In addition to affordable construction, the great advantage of artificial grass is easy maintenance. The artificial grass needs more thorough maintenance only once a year in the spring, before the start of the reason. Thanks to the weatherproof and durable nature of the artificial grass, general maintenance is also easy. Mainly, the court only needs to be cleaned regularly from leaves and debris. Less maintenance, more playing time!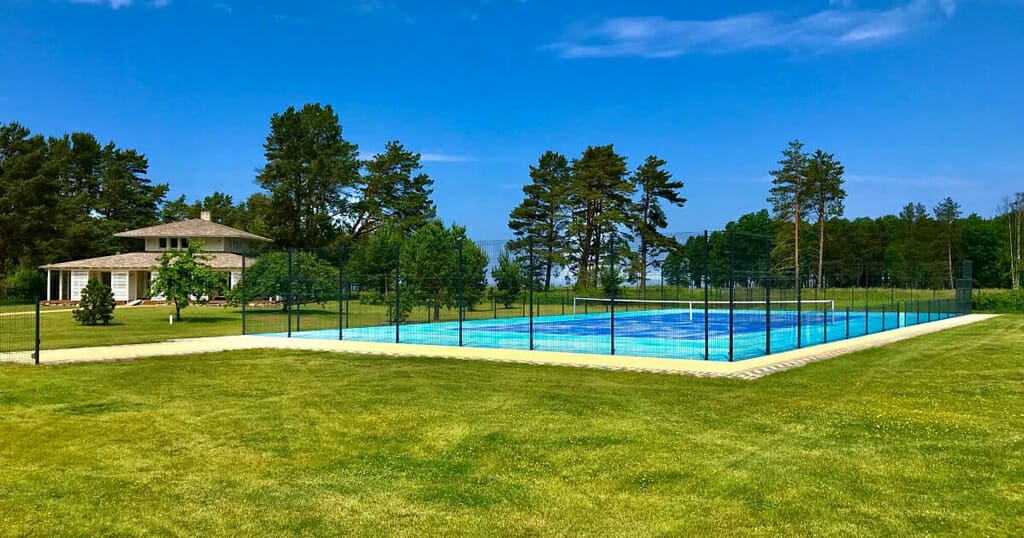 Artificial grass is also considered one of the most foot-friendly and safe court surfaces. It reduces the pressure on the players' joints due to its softness. By its nature, artificial grass is a relatively quick court surface. One of the significant advantages of artificial grass is that the surface dries quickly after rain. Also, artificial grass is significantly less slippery than other tennis court surfaces when wet. As a result, the playing time is longer, and players can use the court more.
Artificial Grass Tennis Court Color Options
A wide range of artificial grass color combinations is available for the play area and the running area so that the court fits your home garden perfectly:
Red / Summer-Green
Red / Green
Green / Summer-Green
Green / Green
Summer-Green / Summer-Green
Blue / Green
The color options do not differ in terms of playing conditions and quality – they are equally foot-friendly and soft. You can choose the color of the tennis court according to your color and design preferences.
Artificial grass surfaces are produced with different pile lengths, which affect the game's characteristics. For example, artificial grass with a lower pile length (10 mm) is more dense and has more uniform bounce and court surface. Tennis courts with this type of artificial grass surface are the most similar to natural grass tennis courts.
Artificial grass with a larger pile height (20 mm) is more sparse and requires twice as much infill sand, making the surface sandier and more slippery.

TennisKit24 recommends: If you plan to build a private tennis court, the first choice could be artificial grass to ensure the best value for money.
The Best Court Surface for Tennis Centers – A Modern Clay Court!
Tennis summer is probably best characterized by the idea of playing on a clay court surface under a hot sun. Recently, however, has the world of tennis courts undergone several innovative changes that make the life of clay court lovers much easier.
Namely, the newer and modern version of clay court surface is now also available in the TennisKit24 selection – this is Advantage Red Court!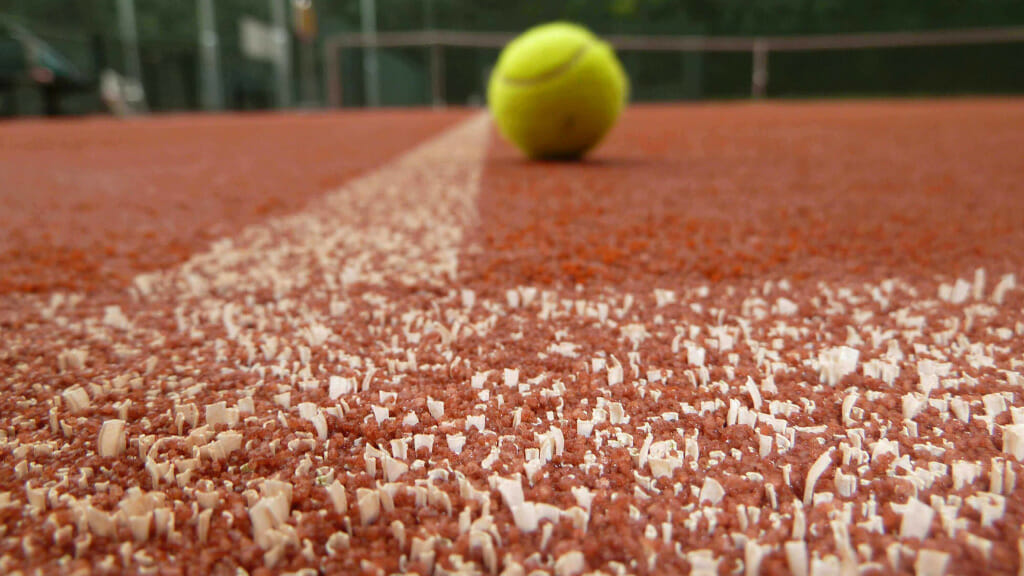 Advantage Red Court is an ideal option for the outdoor courts of tennis clubs and hotels. It is also an excellent surface for the community tennis court and for clay lovers' home courts. This court surface is very similar to classic clay, which, thanks to its innovation, makes the lives of both tennis centers and players much more comfortable. And most importantly – thanks to this, the playing time is extended!
Advantage Red Court Allows to Maximize the Playing Time
Advantage Red Court is exceptionally similar to classic clay-court both in terms of its playing characteristics and appearance. Strongly brick-red surfaces are the latest generation in the world of tennis courts!
Advantage Red Court is essentially an artificial grass cover filled with special ceramic sand. It is player-friendly and ideal for outdoor tennis courts, offering a clay-court experience with significantly less maintenance. Mainly thanks to its construction principle, the surface does not need a complete reconstruction in spring. And most importantly – Advantage Red Court does not need watering at all!
A significant benefit of Advantage Red Court over classic clay court is the weather resistance. If the biggest problem in the case of clay is that you can't use the court for many hours after heavy rain, the tennis courts with Advantage Red Court surface are playable right after the rain! Since the condition of the surface is significantly less weather-dependent than a classic clay court, it allows tennis clubs to extend substantially the playing time of the court.
TennisKit24 recommends: Advantage Red Court is an excellent choice for maximizing the use of tennis centers' outdoor courts.
The Right Tennis Court for Everyone!
TennisKit24's wide range of products includes modern, player-friendly, and easy-to-maintain tennis court surfaces, from which every player can find a suitable variant. Summer is already knocking on the door. Start planning the construction of your tennis court today!